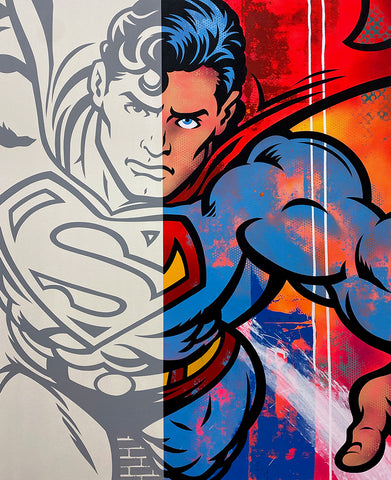 Original Painting 9486 * SUPERMAN
 
ITEM DESCRIPTION : 
 
 

Original canvas from SEEN, SELECTED WORKS series, 2023, SUPERMAN

Actual painting size is 54 x 66" (137 x 167,6 cm) with an added 3 border (7,6 cm) around all four sides for stretching on wood. Stretched size is 48 x 60" (122 x 152,4 cm) // UN-stretched size is  54 x 66" (137 x 167,6 cm). The white border is NOT considered part of the artwork.
This painting is part of my SUPERHERO/CARTOON series, it 
will
come with a
COA
direct from SEEN of SEEN Studios. (COA might be shipped in a separate mail)
 

SIGNED ON THE BACK.  

Attention, those paintings are difficult to photo shoot so the colors might look slightly different that what they really are. We try to stay as close as possible but sometimes it's just not possible, so be aware that some colors might be darker/brighter.
MUST READ - IMPORTANT :


* Shipping might take a week or so, as we are a very small business. Some weeks might get busier than others, so shipping can be "delayed" but it's usually sent out within 7 to 10 days.  


* Please understand that unfortunately, DUE TO THE WORLD WIDE PANDEMIC, the shipping might be delayed or take longer than usual to get to you.
Read our Shipping Policy for more information but please consider taking the "ROUTE package protection" option as it will be the ONLY way that YOUR PURCHASE WILL BE COVERED in case of loss or damage.

* All paintings are hand-painted by SEEN. This is NOT a print, so you should expect some flaws, imperfections, splatters, rarely small cracks or wrinkles can also happen, and when it does, it's part of the artwork. This is just the nature of the spray paint on canvas, it can, eventually, crack in time. 

* All paintings will be shipped in a tube with USPS, for an easy and safe shipping. (With a "signature required" service when in the USA). They will be rolled loosely to avoid cracks and should be unrolled RIGHT AWAY when you receive them, and laid flat for a few days to allow more drying time.

* Don't forget to read our shipping policy to make sure your order is protected and you have all the information you need in case something would happen.